Academics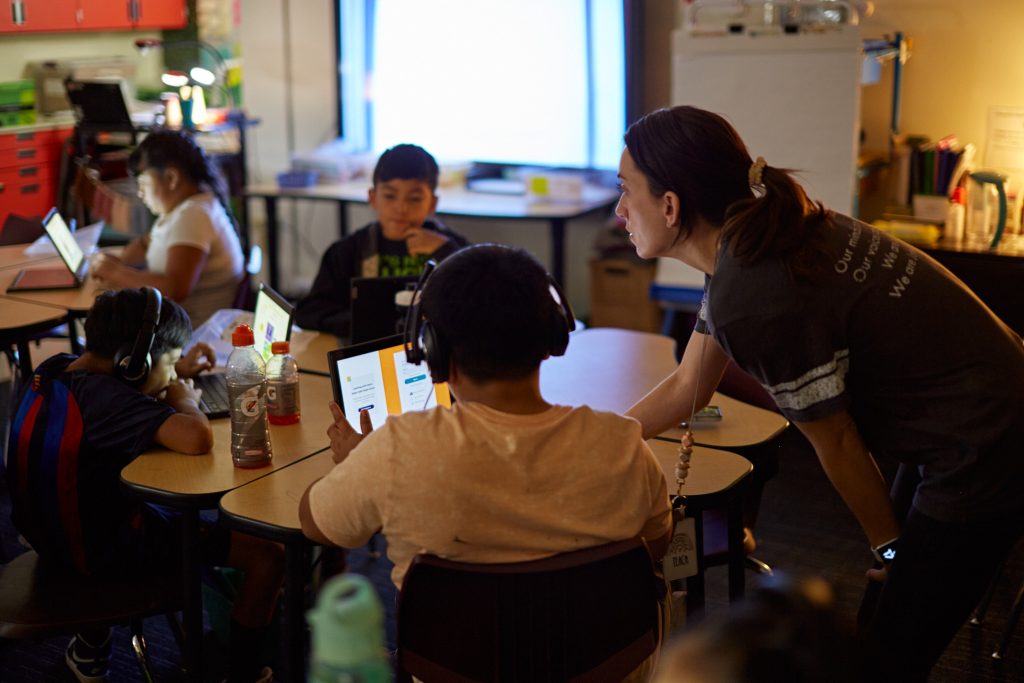 At John H. Amesse Elementary we value a strong academic core that instills the love of learning in kids while providing the necessary skills for them to be college and career ready. By choosing and modifying components of various content and curricula aligned to the CAS, with resources in English and Spanish, we are able to ensure that lessons are engaging, personalized, and culturally affirming.
We are also able to choose curricula and resources that meet the needs of the entire targeted population, including ELA-S students, by bringing in high-quality Spanish materials. Spanish curricular materials are equal to those in English in terms of caliber, rigor, availability, and quality, and they also allow teachers to support differentiation for ELLs, recognizing that all students benefit from instruction adapted to their current learning levels.
A learner's day includes a literacy block, guided reading, a math block, social studies, and empower courses (Physical Education, Science, Technology, Engineering, Media Arts, and Math).
Gifted & Talented

At John H. Amesse Elementary, we are dedicated to recognizing giftedness and developing talent within our scholars. Our Gifted and Talented Program values appropriate services for advanced learners and provides relevant opportunities for talent development across all grade levels. In order to uphold our core values and dedication to our Gifted and Talented Program, we ensure that we are  creating and embedding meaningful and individualized Advanced Learning Plans, providing differentiated instruction, supporting social- emotional needs, equitably identify ever- developing talent that reflects the cultural and linguistic diversity of our school, and maintaining ongoing communication and collaboration with our families and staff. We aim to accomplish this by, gathering input from students, teachers, and families to target the strength areas of our students, creating specific instructional strategies for learning outcomes, following necessary steps for students to advance their social emotional growth, administering national cognitive abilities screeners, and continually communicating with families and staff about how to monitor developing talents and meet student needs in and outside of the classroom with targeted resources, advocating for identification testing, and incorporating classroom- level instructional differentiation. John H. Amesse Elementary is committed to providing a comprehensive and rigorous Gifted and Talented Program, in order to provide our scholars with the rich and engaging education they deserve. 
Curriculum that Supports Social-Emotional Learning

John H. Amesse Elementary leverages a variety of curricula that contributes to students' social-emotional learning and growth, including PATHS (which is bilingual) and Capturing Kids Hearts.
Empowerment Team

Our school has a team of Specialists leading STEAM and physical education courses. Students at JHAE are being challenged and engaged with science, technology, the arts, and physical education.
School-Based Student Support Teams

John H. Amesse Elementary has a full student support team to ensure that whole child needs are adequately met. This team includes a nurse, psychologist, social worker, restorative coordinator and a Culture Senior Team Lead.