Building Closure- Please Read
Posted October 22, 2020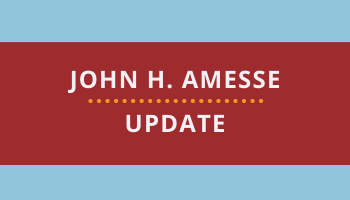 Oct. 22, 2020
Dear John H. Amesse Families,
Yesterday, we learned that two more members of our community were diagnosed with COVID-19. We have already made contact with all families in the cohort as well as any individuals who had close contact with the person/s who tested positive.
Given this news, as well as taking into consideration our small school needs and the health of our JHAE families with the recent cases, DPS leaders approved a school closure for the next two weeks, October 23rd – November 5th, due to staffing shortages and the commitment to keeping cohorts separate and safe. This is considered an operational closure and not required by the Colorado Department of Health. We made this decision with the support of district leaders, recognizing the great disruption and inconvenience that this causes your family and child. Thank you for your grace and flexibility as we navigate these uncertain and challenging times.
ECE students will not attend classes at school nor have remote learning. Teachers will reach out to individual families to check in and make connections with students. ECE families will not be charged tuition for any days that John H. Amesse was closed.
Kindergarten through 5th grade students will switch to remote learning with their classroom teachers and peers. Remote learning will follow the same schedule that we have now, with classes taking place daily from 7:30 am- 2:00pm for grades K-5. Links can be found in Seesaw and on our John H. Amesse website.
All children can return to the school building for in-person learning on Thursday, November 5th.
Each case of COVID-19 is interviewed by public health. As part of this public health investigation:
The person diagnosed is being kept home from school until they are no longer infectious.
The person's activities when they could have spread COVID-19 were assessed.
The people who were close contacts of the person with COVID-19 are instructed to stay home from school for 14 days after the exposure. This is called quarantine.
If you, your student or another family member develop symptoms consistent with COVID-19 such as headache, cough, fever or chills, shortness of breath, new loss of taste or smell, or nausea:
You may contact the Denver Health School Based Health Center at 303 602-8958 (or your primary care provider) for further evaluation and possible testing.
Keep your child home from school and avoid other activities around other people.
Notify the school.
Seek medical care and testing for COVID-19, calling your doctor before you show up.
Under the Healthy Families and Workplaces Act, an employer must provide paid leave to an employee under certain conditions, including taking care of someone else due to COVID-19 precautions, including a child whose school, place of care, or child care is closed or unavailable.
If you have further questions, please contact me or your local public health agency.
For Peace and Justice,
Dr. Angelina Walker
Principal, John H. Amesse Elementary
---
22 de Octubre, 2020
Queridas Familias de John H. Amesse,
Ayer se comunicó a la comunidad de JHAE que teníamos dos estudiantes/maestros/as diagnosticado con COVID 19. Nosotros ya nos comunicamos con las familias que pertenecen a ese grupo así como a las personas que estuvieron en contacto cercano con la persona/s infectada/s.
Dado este caso/s positivo/s, además de tener en cuenta las necesidades de nuestras escuelas pequeñas y la salud de nuestras familias de JHAE con los casos recientes, pedí a los líderes de DPS que cerráramos la escuela por las siguientes dos semanas y ha sido aprobado. Estaremos cerrados del día 23 de octubre hasta el día 05 de noviembre debido al poco personal que nos quedaría en la escuela. Debido a esto, no podríamos mantener nuestro compromiso de tener separados y mantener a salvo los grupos de estudiantes. Esto es considerado un cierre operacional y no es requerido por el Departamento de Salud de Colorado. Nosotros tomamos esta decisión con el apoyo de los líderes del distrito, reconociendo el inconveniente que esto puede causar a las familias y a los estudiantes. Gracias por su comprensión y flexibilidad en estos tiempos de incertidumbre y desafío.
Los estudiantes de ECE no tendrán clases ni en la escuela no de manera virtual. Los maestros se comunicarán con ustedes individualmente para informarles como los van a apoyar y para mantener comunicación constante con los estudiantes. Durante este tiempo, no habrá ningún cargo monetario a las familias de ECE.
Estudiantes de Kinder a 5to grado, regresarán a la instrucción virtual con sus maestros de clase y compañeros. La enseñanza virtual seguirá el mismo horario que tenemos ahora de 7:30 a 2:00 pm de Kindergarten a 5to  grado todos los días. Los enlaces serán encontrados en Seesaw y en nuestro sitio web.
Todos los estudiantes podrán volver a la escuela el día 5 de Noviembre.
Cada caso de COVID es investigado por la salud pública. Como parte de esta investigación de salud pública:
La persona diagnosticada es mantenida en casa, lejos de la escuela hasta que ya no este infectada. 
Se evalúan las actividades en la que la persona puede haber expandido COVID-19.
Los contactos cercanos a la persona con COVID 19 son instruídos de quedarse en casa, lejos de la escuela por 14 días. Esto es llamado cuarentena.
Si usted, su estudiante o alguna otro miembro de su familia presenta síntomas relacionados con COVID-19 como dolores de cabeza, tos, fiebre o escalofríos, problemas respiratorios, perdida de sabor de alimentos o perdida de olor o nauseas:
Usted deberá contactar el Denver Health School Based Health Center al 303 602-8958 (o su doctor de cabecera) para una evaluación futura o posible pruebas.
Mantenga a su hijo/a en casa y evite actividades cerca a otras personas.
Notifique a la escuela.
Busqué ayuda médica y hágase la prueba del COVID 19, llamando a su médico antes de ir a la consulta.
Bajo la Ley de familias y lugares de trabajo saludables, el empleador debe proporcionar licencia pagada a un empleado bajo ciertas condiciones, incluido el cuidado de otra persona debido a las precauciones de COVID-19, incluido un niño cuya escuela, lugar de cuidado o cuidado infantil está cerrado o no disponible.
Si usted tiene alguna pregunta, por favor contácteme o contacte a su agencia de salud pública local.
Por la paz y la justicia,
Dra. Angelina Walker
Directora, John H. Amesse